The COSORI brand is one of those who have been selling oil-less fryers of various sizes to consumers for many years. And there is no doubt that this small appliance has become a big part of the market, even on the largest e-commerce, amazon.com.
Taking care of the body's well-being is something we are increasingly aware of, and this product allows us to eat fried and other foods with 85% less oil. Moreover, in many cases shops and supermarkets introduce offers and discounts on various models in their catalogs. In this case, we're going to talk about one of Amazon's best-selling sellers that you can buy now at a discount of $20.
The best thing about this discount COSORI deep fryer on Amazon is that it's the perfect size for families who don't need too much. So, thanks to the 5.4 capacity that it includes in its design, you will be able to prepare several dishes without taking up too much space in the kitchen.
Then, if you are interested in the idea of ​​having one of these appliances for quick home cooking and for your well-being, we'll tell you what features this fryer makes. Which you can buy now for less than $129.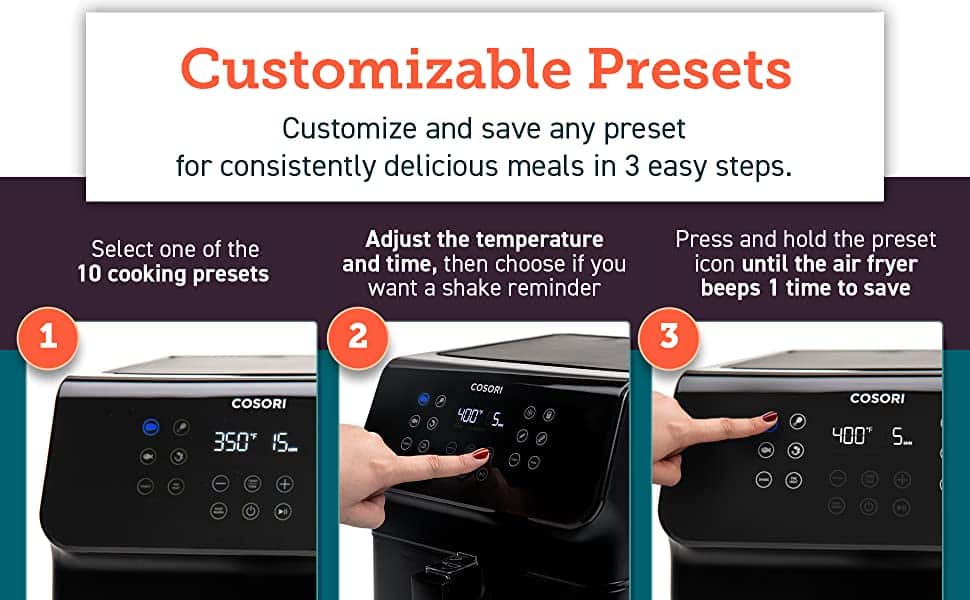 COSORI Air Fryer Description
Discover the features of this large capacity deep fryer that you can find on Amazon at a savings of $20.
12 cooking functions:
10 customizable presets, preheat and keep warm.
Shake reminder
5.8 quart capacity
100 chef-made recipes
Dishwasher safe.
Non-stick, BPA/PFOA-free basket
Square, removable drawer-style basket
Built-in automatic shutoff feature.
Specifications:
Model: CP358-AF
Color: black.
Air fryer dimensions (length x width x height).
11.78 x 13.87 x 12.65 inches (handle included).
11.78 x 12.01 x 12.65 inches (without handle).
Basket dimensions (length x width x height).
9 x 9 x 3.75 inches.
Capacity: 5.8 quarts / 5.5 L.
Power supply (US/AC only): AC 120V, 60Hz.
Power rating: 1700 W.
Temperature range: 170°F – 400°F / 170.6 °F – 401.0 °F.
Time range: 1-60 minutes
Weight: 12.3 lbs.
Get now the COSORI air fryer at a reduced price by entering this link on the Amazon website. In addition, you can learn about other kitchen products in the catalog of the world's largest e-commerce.