Continuing with the viral quizzes, we find this innovative psychological test that can reveal your true fears and at the same time reveal what your true personality is. You will simply have to choose the animal that causes you the biggest fear.
Pay attention to the illustration you will see below these paragraphs. In the image you can see six different animals: a bat, an owl, a cat, a spider, a snake and a rabbit. Depending on your personality, you will have to choose only one, exactly the one that causes you the biggest freight.
Is it possible that an image can reveal your true personality? Well, we don't know for sure, but in social networks there are countless Internet users who guarantee the accuracy of the result of this viral quiz.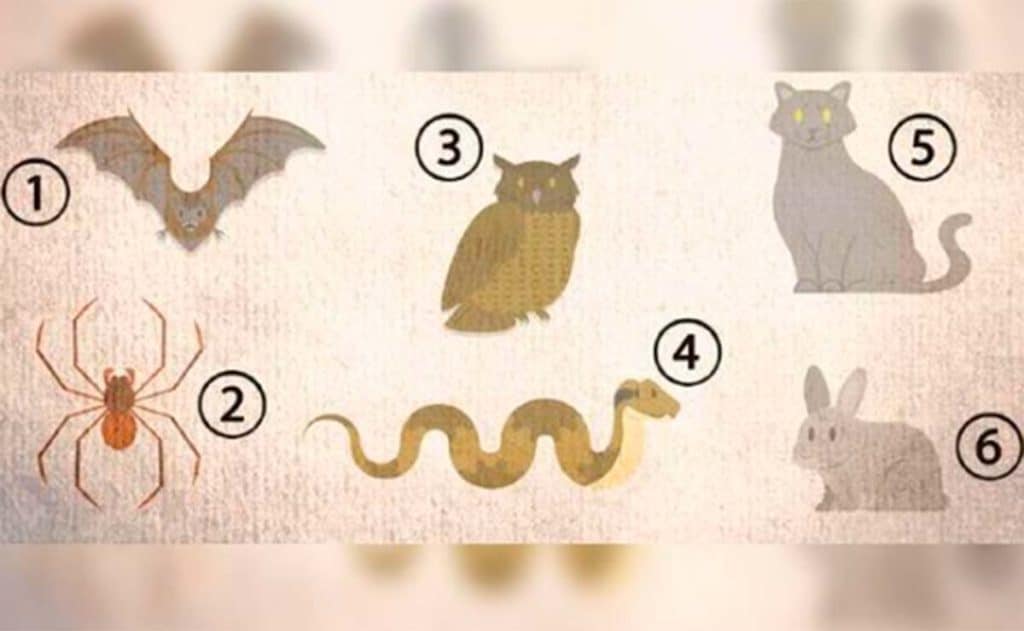 What does each animal in the viral quiz mean?
Bat – Bats are incredibly intelligent creatures. They love to be upside down, and this unique ability makes them seem odd compared to other living creatures. Because of their love for caves and night, they were associated with nocturnal forces and spirits, magic and spells more than any other animal. Your familiar bat wants to give you some advice: "Go out with your friends. Spending more time with your loved ones is a form of therapy and healing. Don't lose yourself in isolation. Rediscover your strengths together with those you love."
Spider – The spider is an animal sacred to the Goddess of Wisdom, Athena. It also has an association with the Shaman. That is probably why it is associated with spirituality. The spider web further symbolizes our material world: the creation of itself. The web is not very noticeable, but it is real and strong. That is the point if you have chosen spider in this viral quiz.
Owl – It is also a sacred animal to the powerful Goddess of Wisdom, Athena. It represents the solar forces at night. People consider it a royal bird and the wisest bird in the animal kingdom. It is possible that this wisdom comes from the bird's ability to turn its neck 180 degrees and observe everything that can approach it. The owl is always prepared and always has an accurate sense of everything around it.
Snake – If you have picked this animal in the viral quiz, you have to know that snakes are always in contact with the ground, yet they can move fast or even jump. They bend and do not break. They are also very patient and almost always wait for their prey. Your family snake would like to give you the following advice: "Poison comes from within. The worst kind of venom is ours, of course. Snakes seem to be immune to their venom and that's how they attack. But if they get bitten, they die too. So, be immune to the venoms. Let me remind you that the best modern medicines are made from poisons. Transmute your poison into a cure."
Cat – Cats are amazing creatures that always need your love and attention to keep your relationship with each other healthy. Your family cat wants to remind you of the following advice: "Stay independent. This doesn't mean you should avoid relationships, but it does mean you should always make quality time for yourself. And, of course, free yourself from toxic people. This viral quiz says taht loving and caring for yourself is the first step to happiness. Only when you learn to love and embrace who you are will you be true to your feelings."
Rabbit – Rabbits are associated with spring. Their unique ability to multiply rapidly was always anticipated as Mother Nature's Magic, which can multiply life. Therefore, rabbits are believed to be linked with fertility, creativity and the absolute victory of life over death. Your family rabbit, through this viral quiz, wants to remind you of something: "Having relationships is a blessing. You have nothing to be ashamed of. Intimate exchange is a blessing, a divine instrument of pleasure and creativity. Use the strength that comes from it to charge other areas of your life that need recharging. When you feel satisfied you can create miracles."