Actor Johnny Depp is all over the media these days because of his family situation, and no wonder. This great artist is very famous and it is normal that everyone is interested in what he might do or think. This can be a negative point for him.
Apart from all this, it should be noted that the actor has a large number of very good movies. In this sense, it is much better to think of Johnny Depp as an actor and not as a public figure, although one thing can hardly live without the other.
Do you know all the movies Johnny Depp has made? The truth is that there are many and you may not have seen them all. That's why today we are going to show you which are the 5 best rated movies of this American actor.
Fantastic Beasts and Where to Find Them
Year: 2016
This movie is within the Harry Potter universe. Although it is true that Johnny Depp does not have the leading role in it, he does have an important role in the film. It is undoubtedly one of the most valued of the actor and it is a pity that in the current films of this universe he no longer appears.
Pirates of the Caribbean: Dead Man's Chest and Pirates of the Caribbean: At World's End
Year: 2006 and 2007
These two films are usually on the same rung when analyzing the success of Johnny Depp's filmography. Everything related to this Disney saga is a sell-out. In these movies he has the leading role, Jack Sparrow, and in both films this charismatic character gets into more than one problem that he has to face together with his crew.
Sweeney Todd: The Demon Barber of Fleet Street
Year: 2008
Along with Helen Bohan Carter, Johnny Depp plays a spectacular role in this film that tells the story of a barber who is a little bit peculiar. The story is told as a musical, so if you like this kind of shows you will enjoy it a lot.
Corpse Bride
Year: 2005
In 2005, Johnny Depp decided to participate in a truly unique project. This stop-motion film is a real treat and a visual spectacle. The story is very sad and emotional at the same time, so it will not leave you indifferent.
Sleepy Hollow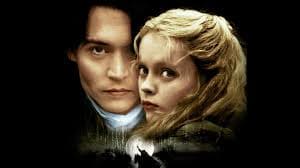 Year: 2000
This dark thriller tells a story full of mysteries in which Johnny Depp plays a very moving lead role. A murderer is on the loose and he has to find out who he is in order to rid the town of the curse. You won't be able to tear yourself away from the screen until it's over and you'll have a constant sense of intrigue the whole time.
Other Johnny Depp Movies
In addition to all the previously mentioned films, there are many other interesting films such as Fear and Loathing in Las Vegas, Alice in Wonderland, From Hell or Ed Wood. It doesn't matter which Johnny Depp movie you choose because the actor always does a good job.
If you haven't seen the top 5 Johnny Depp movies, you already have a good plan to do during the upcoming weekend. It's never too late for a good movie marathon.