Coin and currency collectors are now paying close attention to their 20-dollar bills. According to Eric Miller, a Tiktoker on thecoinchannel there is a bill that dates back to 1996 and has a surprising error on it. His more than 4.4 million followers are looking forward to getting one bill like the one Eric Miller showed them recently. The price it reached was really high, not everyone can afford to pay 400,000 dollars.
Apparently, there is nothing wrong with the bill. So it is more than likely that this high-value bill remains unnoticed if you do not know what to look for. Just like other bills, it also has one of the former US presidents. In this case, it has President Andrew Jackson. The 20-dollar bill has a special sticker on it. There is a Del Monte banana sticker right there. So look for that.
It is a sticker on the 20-dollar bill?
According to Eric Miller, it is not a sticker but it is actually printed on it. It was not found until 2004. In fact, it was a college student the one who spotted it. As the student withdrew money from an ATM, he realized it had a special feature. It is more than likely that you will start looking at bills and coins in a different way.
Perhaps you were already keen on checking any coins or bills in case you came across a rare and valuable one. This student thought he could put it on eBay and make some cash. Actually, he managed to sell it there. Though the amount of money he got there was not as high as the almost 400,000 dollars.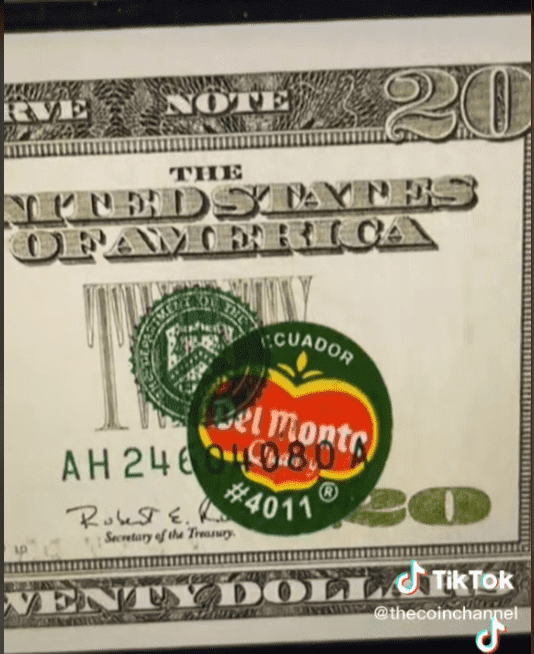 How many dollars did the college student get on eBay?
After the 12 bids, he was able to get 10,000 dollars. However, two years later it was again sold for $25,300. It was not until 2021 that it reached the staggering price of 396,000 dollars. Here comes the debate of whether it was a good choice to sell it at that time or if it would have been better to wait a little longer.
Maybe, it was not about the right time, but the right place to sell it. Heritage Auctions would have probably been a better place to check the value of the bill. Then, you could have sold it with the help of an expert and trustworthy person.