A healthy diet always includes plenty of fruit and vegetables. They are important because of the many vitamins and minerals they contain, can be excellent sources of protein without many of the drawbacks other sources have, and even sometimes include healthier fats that can prevent the development of several conditions. Nutritionists and dietitians keep saying we don't get enough vegetables, but how can we change that? We list several tips and strategies to help you include more vegetables across your diet.
The following suggestions are meant for general purposes only and do not constitute any form of nutrition advice. Do not rely on them as a substitute for actual guidance by your doctor or registered dietitian. Remember that a healthy diet is always balanced and provides you with nutrients from different food sources. Always talk to your doctor before making any major changes to your diet. Do not follow crash diets and always look after your mental wellbeing. Your worth is never defined by your weight or looks.
Some tips to eat more vegetables
Below you can find several basic suggestions to help you sneak more veggies in your diet. They can be useful as a starting point. In time, you may find some tricks of you own and perhaps even discover some preferences you didn't know you had.
Use the freezer
You may have heard that nothing beats "fresh" fruit and vegetables, but the truth is freezing barely affects the nutrients present in most foods, especially if you are going to consume them in a matter of weeks or months.
The case for frozen fruits and vegetables has two main arguments: frozen can be cheaper and more convenient. With frozen vegetables, fast food can actually be healthy.  You can chop or peel many vegetables yourself and freeze them in reusable plastic bags to have them ready when you are in a rush. They are as healthy as fresh vegetables, and will always be better than canned vegetables with added salt or sugar. It's also an useful method to ensure you have access to many fruits when they are not in season.
Follow vegan blogs for inspiration
Many think vegetables can only be eaten in a few limited ways. If you are one of them, think again. Creativity can help you get the most of many vegetables, regular and exotic alike, and can add motivation for establishing a healthier relationship with food, where you are in charge of cooking and discovering new and inventive ways to eat vegetables. You will need some inspiration first, so why not take a page after those who excel at it? Zucchini noodles, spiced chickpea burgers… Scrolling on a few vegan blogs and recipe sites is sure to spark some ideas for recipes and hacks.
Add more vegetables to your regular meals
You can spice up many of your regular meals simply adding fresh or frozen vegetables beyond the usual side dish. For example, you can ditch grated cheese for grated vegetables like carrots or zucchini. Many vegetables are the base of tasty sauces, but you can take that one step further, like adding carrot to your tomato sauce or trying pesto sauce. Casseroles also benefit from sautés.
Plan ahead
When planning your weekly menu ahead of your visit to the grocery store, try to look for the meals that could do with some veg. Try to base most of your meals in at least some kind of vegetable, always aiming for a balanced diet. You can buy different kinds of vegetables even if you still don't know how to use them, so you have reasons to include more of them in your meals they are with you at home. If you don't use all of them, that's okay, since you can always freeze them.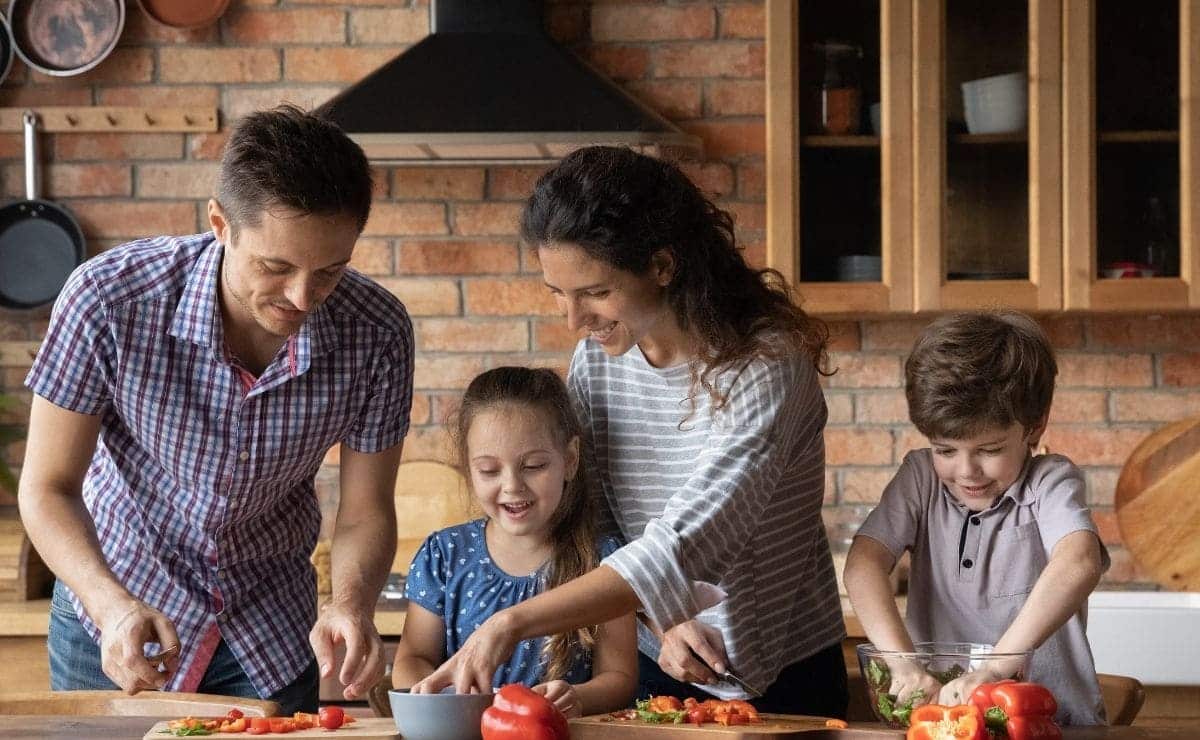 Don't turn to unhealthy options just because you are in a hurry
If you are short of time, you can buy packaged salads and pre-cut vegetables ready to wok. Ideally, you can benefit from spending time in the kitchen and cooking yourself, but these options can be handy and are certainly healthier than other alternatives.
Vegetables can also be snacks
You can rely on many vegetables as a snack to take the edge off your hunger. You can dip crudités in hummus or enjoy celery sticks and nut butter. Cherry tomatoes and feta cheese cubes make for a great combination, just like crackers and homemade tzatziki sauce.
Make cooking — and eating — a social experience
Your journey to a healthier diet should not feel lonely. You can find the time to shop for groceries as a family so you can all learn healthy habits. If you have kids at home, the kitchen can be a great way to teach — and learn!  — new ways of enjoying food in a healthy way. Modern life sometimes makes finding quality time for your loved ones hard. If you already cook, you can make the most of this time and try out new recipes together. You don't have to do this everyday. For example, Friday nights can be a good opportunity.
How much fruit and veg should I eat
As a golden rule, many health agencies recommend getting a minimum of 5 portions of fruit and veg a day. Many preparations are accepted as valid, so fresh, frozen, dried or canned all count. For reference, 80g of fruit and veg already count as a portion, whereas you'll need as little as 30g for dried fruit. The NHS recommends including this as part of your regular meals or brushing your teeth after eating them to prevent tooth decay.