Vitamin B12 is an important nutrient that you need for your health. It's responsible for DNA production and maintaining your blood cells and nerves in good condition. B12 is almost exclusively found in animal foods, like meat or eggs, but fish and shellfish are also good sources. Whatever the reason, if you don't eat meat, you can rest assured they can provide enough of this vitamin.
The following text is based on information by the US National Institutes of Health (NIH), the UK National Health Service (NHS) and the FoodData Central database. It does not constitute any form of medical advice and should not be taken as a substitute for actual guidance from your doctor or dietitian. Talk to your doctor or healthcare provider to address any questions or concerns about vitamin B12, especially if you are considering supplementation.
How much B12 do you need?
The amount of B12 you should be taking depends on your age and different needs, but generally speaking most adults should aim for 2,4 micrograms (mcg) a day, the NIH dedicated site states. Below you can find the recommended amounts by age:
Babies 0-6 months: 0,4 mcg
Infants (7-12 months): 0,5 mcg
Children 1-3 years: 0,9 mcg
Children 4-8 years: 1,2 mcg
Children 9-13 years.: 1,8 mcg
Teenagers and adults: 2,4 mcg
B12 is particularly important in the context of pregnancy, which is why it is recommended that teenagers and adult women get 2,6 mcg during pregnancy, 2,8 if they are breastfeeding.
Clams are packed with B12
If you don't eat meat, you can still obtain enough Vitamin B12 myths: how it helps (and how it doesn't) your health from other natural sources, as fish and shellfish are also an option. Below you can find some of the fish that are particularly high in this nutrient, following a 2015 report obtained from the FoodData Central site, a database  maintained by the US Department of Agriculture.
Cooked clams (mixed species): 84mcg per measure (85g): 84mcg
 Red salmon (sockeye) filets, with skin: 19,5mcg per filet.
Herring (Atlantic, cooked): 18,8 mcg per filet
Mackerel (Atlantic, cooked): 16,7 mcg
Sardine (Atlantic, canned in oil): 13,3 mcg per drained cup
Tuna (fresh, bluefin): 9,3mcg per three ounces (85g)
Trout (mixed species, raw): 6,2 mcg per fillet (79g)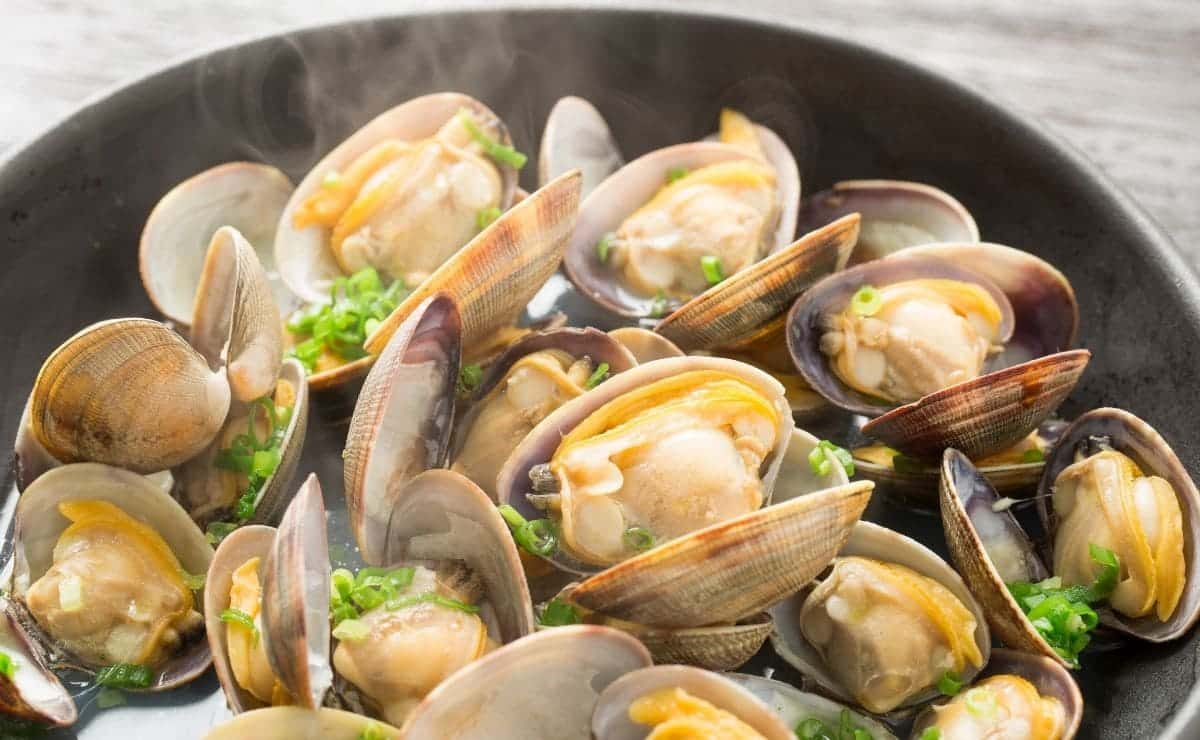 As you can see, clams are an excellent source of B12 vitamin if you can't or won't eat meat. We only listed the first appearance on the list, but mollusks rank consistently high, whether they are cooked or as part of a soup. Shellfish, like clams, oysters, mussels and scallops, is an important source that also has many other benefits, as these foods are also low in calories and in some cases may be rich in carotenoids.
Looking at the list, it becomes clear that including a few of these foods in your diet will provide you with much more B12 than you need. This can be baffling, considering that vitamin B12 deficiency is not uncommon, especially as people grow older.
According to the UK Health National Service (NHS), 1 in 10 people older than 75 years does not get enough B12, and 1 in 20 people between the ages of 65 and 74 are also affected.
You may have heard that vegetarians and vegans should get B12 from supplements, as this nutrient is almost exclusively found in foods of animal origin. Diet is rarely the cause, though. B12 deficiency can also be explained by pernicious anemia, a condition where your own immune system. prevents your body from correctly absorbing the nutrients. This is the most frequent cause in the UK, NHS notes. On the other hand, some medicines can also impede absorption. These include anticonvulsants and proton pump inhibitors.