What is the beef with red meat? In recent times this food group has been in the eye of the storm due to potential health risks linked to excessive consumption. You may have heard about heart disease and cancer, but what is the evidence on it?
The following article follows information made available by the UK National Health System (NHS) and other trusted sources. It is meant for general purposes only, and does not constitute any form of nutrition advice. Do not rely on it as a substitute for actual guidance or diagnosis you can get form your doctor or registered dietitian. Talk to your healthcare provider before making any major changes to your diet.
What is considered red meat?
The term red meat, as described by the 2015-2020 Dietary Guidelines for Americans, is used to describe all forms of beef, lamb, pork, goat, veal and non-bird game like venison, bison and elk. Nutritionists agree that these meats can be a good source of protein, minerals and vitamins. Most nutritionists also agree that red meat can be part of a healthy diet, since the bone of contention is how much of these foods should we eat and what are the potential risks. 
This is because over the last few years it has become increasingly clearer that excessive red meat consumption can be linked to a number of diseases. The 2015-2020 Dietary Guidelines for Americans state that, according to "strong evidence", eating patterns that include a lower intake of red and processed meats and processed poultry are associated with a lower risk of suffering cardiovascular disease in adults. This could happen because red meats are also high in less healthy nutrients, like some types of fats that increase your "bad cholesterol" levels, which can contribute to heart disease.
Therefore, consensus is to lower red meat intake, given current consumption patterns in most societies. The 2020-2025 Dietary Guidelines for Americans, for example, state that one characteristic of dietary patterns associated to "positive health outcomes" is a "relatively lower consumption of red and processed meats". A "higher intake of red and processed meats" is listed among the characteristics of dietary patterns associated with "detrimental health outcomes". When addressing different food groups to use as a protein source, lean meats, poultry and eggs are instead repeatedly mentioned.
The NHS site also acknowledges the good nutrition profile of red meat, which includes important minerals like iron, zinc and B vitamins, and constitutes an important source of vitamin B12. However, the site echoes a recommendation from the British Department of Health and Social Care: those people eating more than 90g every day (cooked weight) of red and processed meat every day should lower consumption to no more than 70g. This recommendation was made over cancer concerns, the other potentially harmful aspect of these foods that has garnered them something of a bad reputation these days.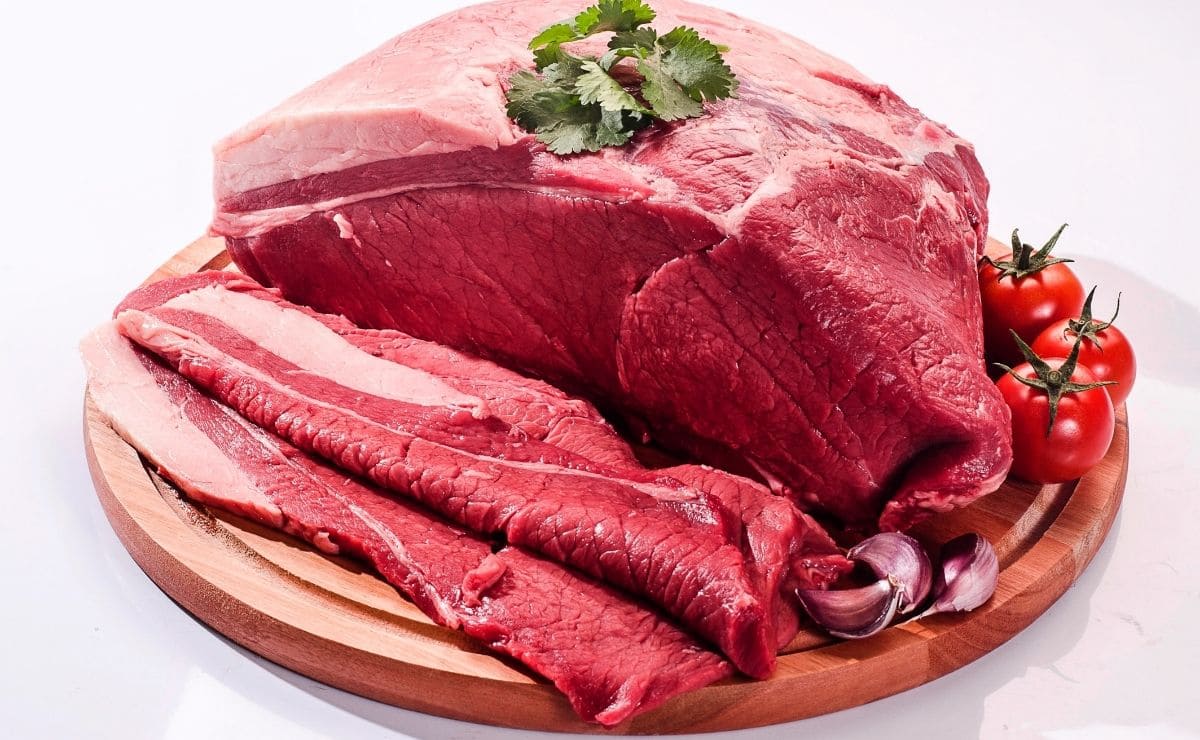 A case of reasonable doubt
In late 2015 a report by the International Agency for Research on Cancer (IARC) concluded that processed meat was carcinogenic, after reviewing more than 800 studies on cancer and red and processed meats. The working group classified processed meat as "Group 1", meaning that evidence was as strong as with other known carcinogenic agents like tobacco or asbestos. Red meat, however, was classified as "Group 2A", meaning that associations with colorectal cancer were positive but limited in comparison. Therefore, red meat was deemed probably carcinogenic to humans.
The debate now seems to revolve on how much red meat is acceptable in a healthy diet. The IARC report intended to assess risk rather than make specific recommendations. Today, most health agencies tend to advise lowering consumption in favour of other sources of protein and the rest of nutrients red meats are high in. This seems to be the wide consensus. In 2019 a study published in Annals of Internal Medicine disputed this prevailing opinion and claimed that there was no need to halt or reduce consumption, on the basis of five systematic reviews. The study immediately sparked controversy over methodology, and later that year the journal issued a correction stating that the chief author did not disclose past food industry ties.
In short: no "safe" thresholds based on evidence have been established, and consensus leans towards reducing your intake rather than banishing it completely from your diet. Aside from advice from the British health authorities (no more than 70g a day if you consume more than 90g of red and processed meat), the American Institute for Cancer Research advises limiting consumption "to no more than three portions a week, or about 12-18 ounces". It is important to note that nutrients available in red meat can be found in other sources.
As for risks related to fat, the NHS advises to cut down on fat when cooking meat, and lists some ways to do this, including grilling rather than frying, roasting meat on a metal rack above a tin to let fat run off, and simply replacing some of the meat with vegetables.