Many people spend lots of time and money on beauty routines or treatments to nourish and take care of their skin, often looking for ways in which nutrition can help them do that.
The following text is based on information made available by The British Dietetic Association (BDA) and other trusted sources. It is meant for general purposes only and does not constitute any form of nutrition or medical advice. Do not rely on it as a substitute for actual medical guidance or diagnosis. Talk to your doctor, registered dietitian or healthcare provider to address any dietary concerns. Keep in mind that the best way to stay healthy through nutrition is to base your diet on a wide range of foods in the right proportions that allow you to get all the nutrients your body needs.
What nutrients have been linked to good skin health?
How well our skin ages is largely defined by our genes, but a healthy diet can go a long way to preserve it in good condition. According to the BDA, it is important to follow a balanced nutritional diet that ensures we get all the nutrients we need from a wide range of food sources in the right proportions.
However, some specific nutrients can be linked to skin health and function. These include vitamins A, B2, B3, B6, C, D and E, as well as minerals like zinc and selenium. A balanced diet should be able to provide you with all of them, so you should aim for that rather than focusing on single foods, given that research on the subject is somewhat limited, as Mayo Clinic notes. However, as mere examples, we can list some foods rich that are rich in these nutrients.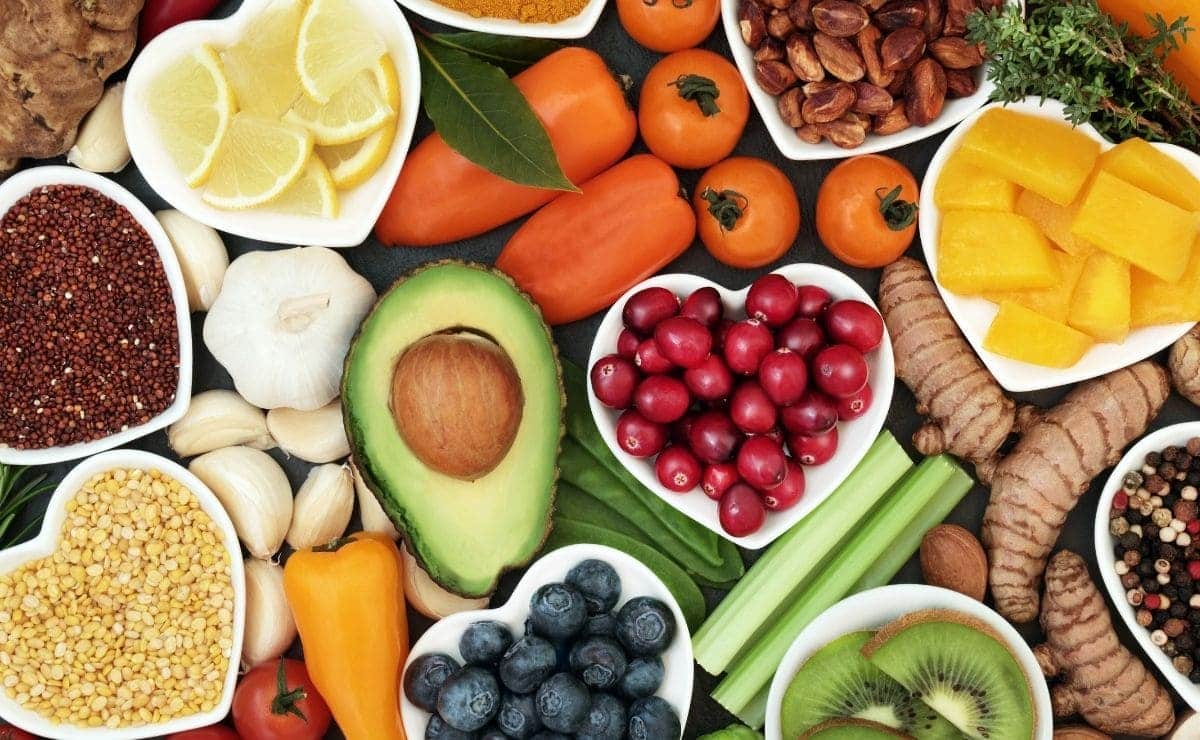 For instance, carrots are considered an excellent source of beta-carotene, a nutrient that has antioxidant properties and can be converted into vitamin A. Dark leafy green vegetables like spinach, kale or collard greens are also rich in antioxidant substances. Berries and citrus fruits are rich in vitamin C, needed for producing collagen, the element that gives elasticity to our skin and is often included in many products marketed as "anti-aging". Finally, omega-3 acid could also play a role in protecting the skin against inflammation, so sources like seafood and salmon may also help your skin, according to nutritionist Joanna McMillan.
Stay hydrated
Experts say that hydration is key to maintaining a healthy skin. Depending on your lifestyle, health conditions and where you live, the amount of water you need to drink daily will change. In the case of the UK, the British Dietetic Association recommends drinking around six to eight glasses of water a day, increasing your intake when exercising or during the summer months.
Hydration goes beyond merely drinking water, as many foods also contain it. This is yet another reason to choose fruits and vegetables that are rich in water and also include many important antioxidants, like cucumber, apples, spinach, watermelon or citrus fruits.