Vitamin B12 is an essential nutrient that plays an important role in the protein metabolism. It's important to ingest the right amount of this vitamin to ensure the proper functioning of brain and blood cells.
As the British National Health System website explains, vitamin B12 is a type of vitamin B, just like biotin (B7) or riboflavin (B2), to name a few.
Vitamin B12 is mainly found in animal products, and it's also available in artificial supplements. Some cereals are also rich in this nutrient, because it has been added to them.
How much vitamin B12 do I need?
According to the National Institutes of Health, the average daily amount of vitamin B12 that you should be getting depends on how old you are and whether you are expecting or lactating. For adults, the NIH prescription is 2,4 mcg a day. Below you can find a list in micrograms:
Babies up to 6 months old: 0,4 mcg
Babies aged 7 to 12 months: 0,5 mg
Kids aged 1 to 3: 0,9 mg
Kids aged 4 to 8: 1,2 mcg
Kids aged 9 to 13: 1,8 mcg
Teens aged 14 to 18: 2,4 mcg
Adults: 2,4 mcg
Expecting women and teenagers: 2,6 mcg
Lactating women and teenagers: 2,8 mcg
How do vegans obtain their share of vitamin B12?
Meat consuming adults should be meeting their needs on their own because of their diet. Because plants do not naturally produce B12 vitamin, vegans have to consider using fortified food or supplementation.
According to the British Dietetic Association, this is the only reliable way to ensure that a plant-based diet includes the required amount of B12 vitamin. These fortified foods include breakfast cereals, yeast extracts, soya yoghurts and non-dairy milks. Supplements are also available for those who need it, following dietitian guidance.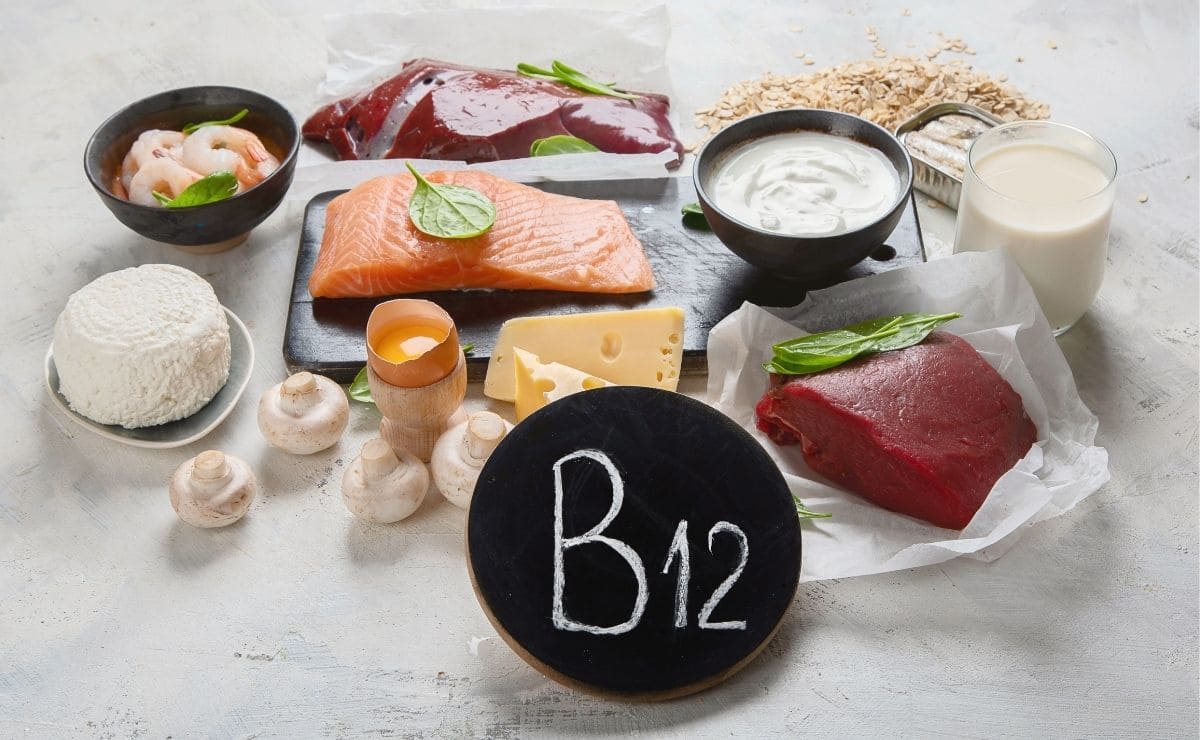 Where is vitamin B12 found?
Vitamin B12 is naturally present in foods of animal origin, including fish, meat, poultry, eggs, and dairy products. In addition, fortified breakfast cereals and fortified nutritional yeasts are readily available sources of vitamin B12 that have high bioavailability
Aside from fortified food, this nutrient is mostly found in foods of ruminant origin — i.e. dairy and meat —. Per the NHS, good sources of vitamin B12 include:
meat
fish
milk
cheese
eggs
some fortified breakfast cereals
What happens if my vitamin B12 levels are lower than they should?
Because vitamin B12 is critical for the normal functioning of brain and blood cells, failing to meet the requirements mentioned above can lead to anaemia. This means that your red blood cell count is lower than it should be, or that there's not enough haemoglobin in each of them.
According to the NHS, anaemia caused by B12 deficiency may show symptoms like:
Pale yellow tinge to the skin
Mouth ulcers
Disturbed vision
Irritability
Depression
Changes in the way of thinking and behaviour
A general decline in mental abilities
This symptoms can also appear in people who lack vitamin B12 but have not developed anaemia.