Food poisoning incidents are often dismissed by many as little more than inconvenient episodes that are not usually serious, but they can sometimes lead to more severe illness, so they are definitely something to avoid. Most importantly, they are preventable in many cases. When it comes to cooking red meat or poultry, it's important to consider some basic safety measures. It probably goes without saying that washing your hands is extremely important, because they are one of the main ways bacteria reach your food.

The following information is based on guidance by the UK National Health System (NHS) and the US Centers for Disease Control and Prevention, but it does not constitute any form of medical advice, as it is meant for general purposes only.
How to cook meat safely
Food poisoning occurs when you ingest food contaminated by bacteria or viruses.
As part of a guide on how to cook different kinds of food safely, the UK National Health System also makes different recommendations depending on the type of red meat or poultry:
When cooking chicken or other type of bird, the NHS advises piercing the thick part of the leg ("between the drumstick and the thigh") to make sure that the meat or juices don't look pink or red before serving.
When cooking pork joints, you should also avoid eating them if they are still pink or rare, and it's suggested you place a skewer into the centre to make sure that the pink hue is gone and juices are clear.
When cooking beef or lamb, the NHS claims it's safe to serve steak and other cuts of beef and lambs rare or blue, provided that at least they have been correctly sealed on the outside at high temperatures. This is because germs are usually found in the surfaces only, in the case of these meats.
When it comes to barbecues, ideally you should first cook fully in an oven and then briefly barbecue to create flavour. This is considered the safest option by the NHS. If you don't want to bother with the oven, however, you should be aware of the risks: undercooking and cross contamination — if uncooked meats come into contact with cuts that are ready to serve, allowing the germs in the raw cuts to reach the cooked ones—.
To avoid this, remember to completely defrost the meat before starting to cook it. Make sure that the coals are hot enough — they should look red and be covered by a grey powder on the surface. To cook evenly, don't forget to turn the meat regularly.
As mentioned before, steaks and joints of beef and lamb are safe to eat rare only if the outside has been thoroughly cooked, whereas mince meat like sausages or burgers require a complete and total cooking.
When it comes to grilling, you may want to ensure that the temperature is high enough to destroy any bacteria or germs. You can use a food thermometer to control temperature. How hot should it be? According to a guide by the American CDC, safe thresholds vary depending on what you're cooking:
145°F (63ºC) for whole cuts of beef, pork, lamb and veal, with a stand-time of three minutes at said temperature. This is also the right temperature for fish.
160°F (72ºC) for ground beef, including hamburgers
165°F (74º C) for poultry and meats that have already been pre-cooked, including hot dogs.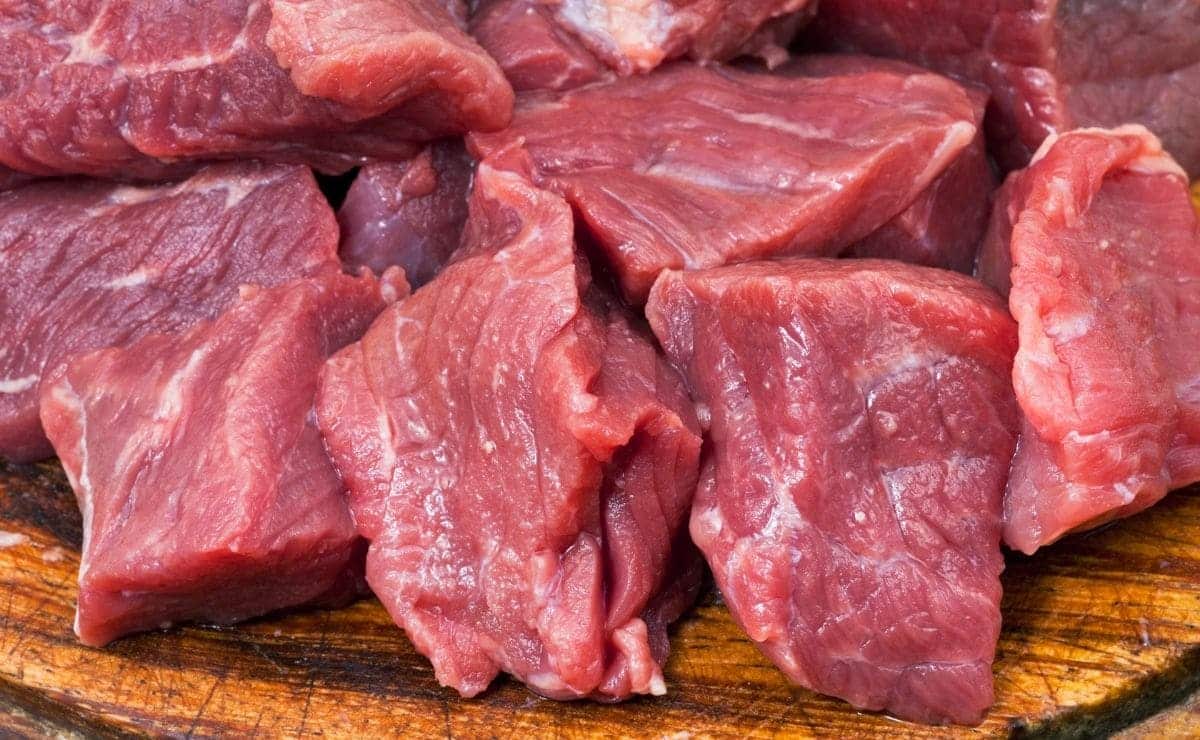 When smoking, the CDC recommend keeping temperatures within a range of 225ºF-300ºF (107ºC-149ºC). After grilling, keep the temperature at 140ºF (60ºC) or higher until you are ready to serve.
The danger of cross contamination
You should be particularly careful when handling pieces of cooked meat (or any other type of food) and raw meat, as they should not mix. This is also true for utensils, so make sure to clean those that have touched uncooked meat, especially the cutting board. Any sauces or marinades that have come into contact with raw meat juices should be discarded. When you are ready to serve, use clean plates and utensils, the CDC recommend. Store them separately as well.