Vitamin B12 is a group of nutrients that play a critical role in the correct development and performance of several body functions, mainly the nervous system. It also prevents severe health conditions like megaloblastic anemia, where your blood cells are fewer in number and struggle to carry enough oxygen, making you tired and weak.
You may have heard that some people turn to supplements to ensure they get enough of this nutrient. The truth is, as long as you consume animal foods regularly, you're probably doing so. In order to confirm your intakes are adequate, we present you with several foods that are considered good sources of B12 vitamin. However, always talk to your doctor or dietitian for any questions or concerns regarding nutrition, as this does not constitute medical advice.
How much vitamin B12 should I take?
The recommended intakes may vary depending on the country's official health institutions. For reference, we will be using those from the American National Health Institutes. They establish a Recommended Dietary Allowance, the average level of intake that is seen as sufficient to meet the nutritional requirements for most people.
In this case, the majority of the population should try to get 2,4 micrograms of vitamin B12 a day, although this changes depending on the age and whether you're pregnant or lactating. The whole table reads as follows:
Birth than 6 months: 0,4 mcg
7-12 months: 0,5 mcg
1-3 years: 0,9 mcg
4-8 years: 1,2 mcg
9-13: 1,8 mcg
14-18: 2,4 mcg
Older than 19: 2,4 mcg
Pregnant teens and women: 2,6 mcg
Lactating teens and women: 2,8 mcg
It should be noted that quantities for babies younger than 12 months old constitute the adequate intake, which is the amount assumed to ensure nutritional adequacy, as there's not enough evidence to establish a RDA.
The best sources of vitamin B12
Organ meats
Organ meats, or offal, are among the best sources of vitamin B12 available For example, according to the NIH's Office of Dietary Supplements, three ounces of cooked and pan-fried live contain 70.7 micrograms per servings. That amounts to a staggering 2,944% of the daily value that is recommended.
Although clams are a strong competitor, other kinds of meat rank well in the table, like beef. Three ounces of ground beef (85% lean, 15% fat) contain 2.4 micrograms per serving, which matches the daily recommended amount exactly (100%). Other meats are lighter, like turkey (0,3 micrograms in three ounces of breast meat, 14% of the daily value).
Clams
Three ounces of cooked clams will get you 17 micrograms of vitamin B12, which means 708% of the daily value you should aim for. As you can see, just a few clams are enough to have your needs covered in this regard.
Bluefin tuna
Fish is the other type of food to consider when looking for good sources of vitamin B12. Bluefish tuna in particular, the most common type of tuna, seems to rank pretty well in this regard, as just three ounces will get you 9,3 micrograms of this nutrient, 385% of the daily value.
Fortified yeasts
Although the exact amount will depend on the brand, some people may welcome this addition to the list, as fortified foods are sometimes one of the only non-animal foods that can be seen as a good source of vitamin B12. A quarter of a cup can contain 8.3 to 24 micrograms per serving, which accounts for 346 to 1000% of the amount you should be consuming daily. Vegetarians see these yeasts as a great resource that won't force them to consume meat or fish.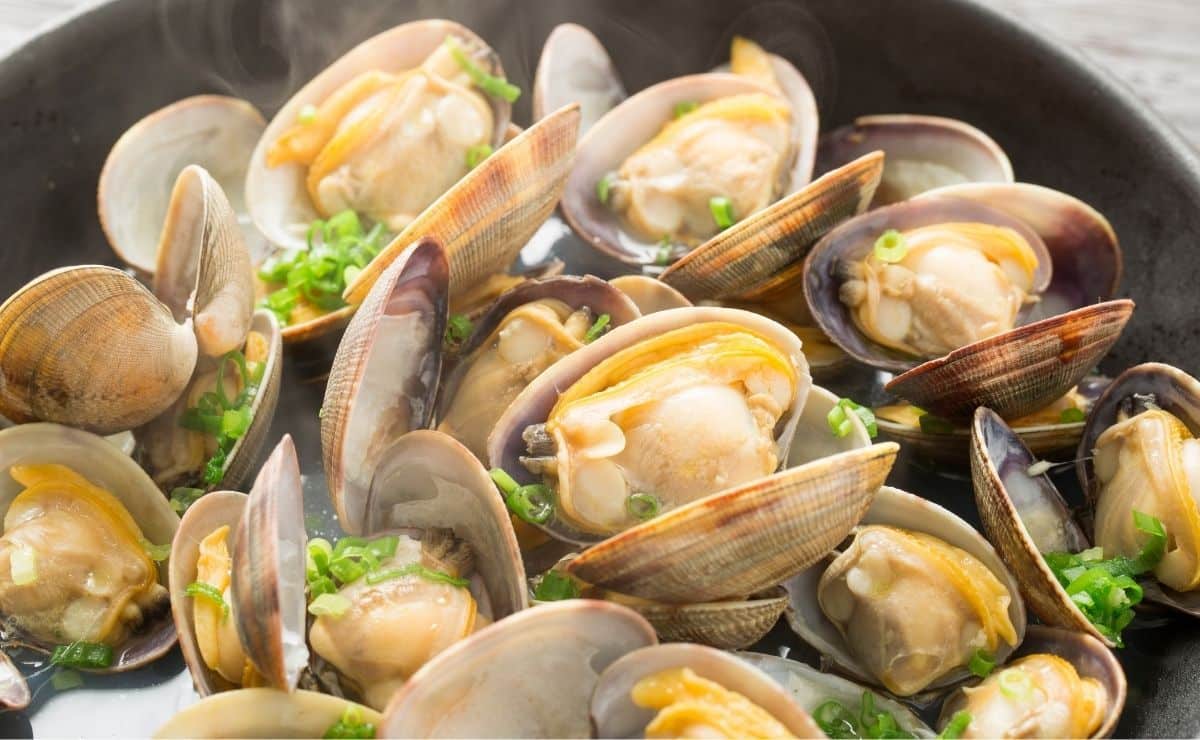 Atlantic salmon
Salmon is a good source of protein and omega-3, and it also provides a considerable amount of B12: about 2,6 micrograms per serving, 108% compared to the daily value that's recommended.
Milk
One cup of 2% milk will make for 54% of the daily value (1,3 micrograms), so it's another option for those who don't include meat or fish in their diets.
Yogurt
Another dairy product that benefits from its animal origin is yogurt. A 6-ounce container of plain, fat-free yogurt contains carries 1 microgram of vitamin B12, 43% of the daily value.