Hailed as the mainstay of every healthy diet or dismissed as a rabbit hole for gaining weight, breakfast has long remained the bone of contention when it comes to discussing nutrition. But, is it that important? Here's how to make sure your breakfast is the first step towards a healthy day.
Is breakfast the most important meal of the day? Can I skip it?
It's become some form of conventional wisdom that breakfast is the most important meal of the day, an essential ritual for your energy intake and general wellbeing that you shouldn't actively avoid. Is that so? The answer remains more elusive that you might think at first, but the rundown is this: it's hard to make that assertion without factoring in your lifestyle and habits.
As far as the calories go, it's obvious that those who actually center their activity around the mornings and evenings are better off sticking to breakfast, compared to those who work through the night or have different routines. Because the first scenario is the one that most people can relate to, it's easy to see why it's generally recommended to keep breakfast as a daily meal. However, in more global terms, the goal is to keep a balanced diet with the right amount and proportion of nutrients, and most dieticians agree that is a far more flexible objective that you might think. If, for any reason, you skip breakfast, you simply should make sure that it's a choice that allows you to have enough energy until lunch.
Having said that, many government bodies like the British National Health System recommend sticking to breakfast and seeing it as an opportunity to start our day with healthy choices, staying clear of sugars and ultraprocessed foods that actually make skipping breakfast seem a good idea.
Tips for a healthy and nourishing breakfast
Having said that, it's clear that if you're going to be faithful to breakfast, you're better off with a healthy one. The NHS suggests many formats and ingredients to keep an eye on, with options for all kinds of people — including those who hate breakfast —.
For those in need of a boost
If you're looking to get energised first thing in the morning, there are a few foods that can help you — no need turning to your usual sugar-loaded canned drink. The NHS recommends trying to scrap added sugars as much as you can, opting for wholewheat cereal biscuits or plain porridge instead of the industrial ones.
If porridge is the way to go, why not accompanying it with fruit? You could mix oats with dried blueberries in semi-skimmed milk, or throwing in a mashed ripe banana. Adjusting the heat, this can be a more-or-less crunchy bowl for those with a sweet tooth.
Another possibility is using lentils such as beans. Proteins should be a part of every healthy diet, and vegetable ones are preferred. Beans are also rich in fibre, another must in most of your meals.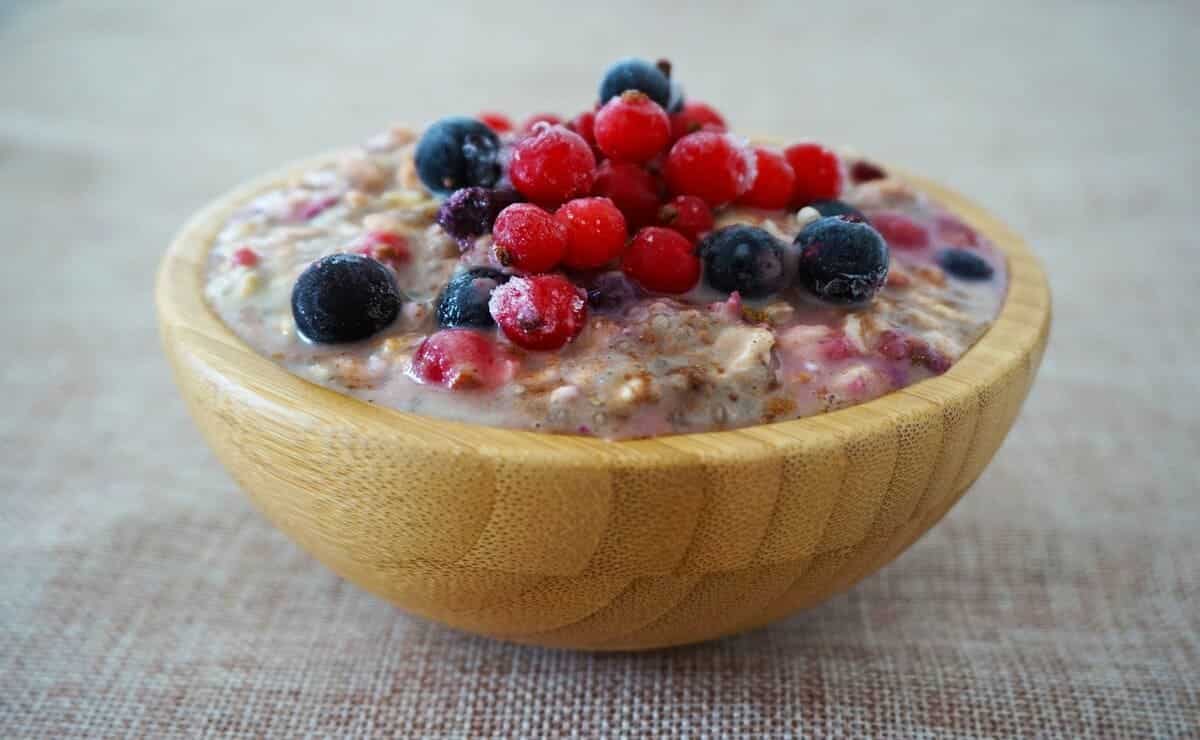 For those with a tight schedule
Cooking is a very healthy ritual that can help you own your diet and become aware of what goes in your plate. However, modern life takes its toll and too often we find ourselves out of time. If you overslept, the NHS also includes "5-minutes breakfasts" for a quick bite. These consist of healthy baked granola bars that are sugar-free, mixed with dried fruits and seeds and mashed bananas. The can be batch-prepared and stored for whenever you're in a rush. Alternatively, you could make a simple omelette with one beaten egg, spinach leaves and lean roast ham, which you can microwave in less than a minute.
For those who want to keep it light
If your need for simplicity goes hand in hand with a weight loss journey, fruit is there to help. A fruit salad requires virtually no preparation, the food is ready to serve and you can get as creative as your imagination — or schedule — let you.
Smoothies are another popular, portable option, and the NHS lists them as one way to get through your morning without losing much time. Specifically, it proposes one made of mango and peach slices, blended along with frozen spinach and a banana, adding water as needed. However, be aware that blending fruit won't make you as satiated and actually increases your sugar intake, so don't turn to smoothies as your only way to consume fruit. Remember the British Heart Foundation makes clear that smoothies "are not a shortcut to a healthy diet".