For many peopletalking about internal hemorrhoid can become an uncomfortable topic, especially if they are suffering from them, in which case these people often carry these annoying symptoms in silence. Others have broken taboos and are more open about it.
Hemorrhoids are venous packages or venous flexes that are found in the canal of the anus. Their function is to swell in order to prevent feces from coming in direct contact with the sphincter and injuring it.
We are all born with these packages or lumps, however, the presence of symptoms in internal hemorrhoid is common in adults over 30 years old and the elderly, but it is also possible to occur in children and even babies.
One of the main symptoms of hemorrhoids is the presence of bleeding during bowel movements, especially if these are found internally. When presenting this symptomatology it must be treated.
Although of being slight or like prevention measure it can be alleviated from house. That is why today we invite you to learn about the 10 home remedies to cure hemorrhoids.
What are hemorrhoids?
It is important to understand that hemorrhoids represent hemorrhoidal pads, these contain spleens that facilitate continence and at the same time avoid injury to the sphincter muscle.
The sphincter muscle of the anus can be controlled by opening and closing it at will. Inside the rectum there are three pads that are located on the left side, the right side, and the posterior right side.
So, hemorrhoids are swollen veins in the anus or lower rectum that are generated when pressure increases in the anal canal and these can be internal or external.
Why do hemorrhoids occur?
The causes are linked to the increase in pressure in the anal canal, this pressure can be generated by the next causes:
When sitting for a long time.
Obesity and pregnancy are reasons for increased pressure in the perineal area.
Prolonged constipation.
When straining to defecate.
Having a low-fiber diet.
Eating little or no fruits and vegetables.
Lack of physical activity.
Chronic diarrhea.
Other pathologies.
Symptoms
When a person goes to the doctor for this annoying problem is the result of bleeding and protrusion that represents hard lumps near the anus, these can be visible and palpable as the case may be.
Also, when bleeding in the feces is visible, it is the main characteristic sign when suffering from hemorrhoids. Other symptoms are minor discomfort and inconvenience when sitting, as well as pain when defecating, in addition to constipation.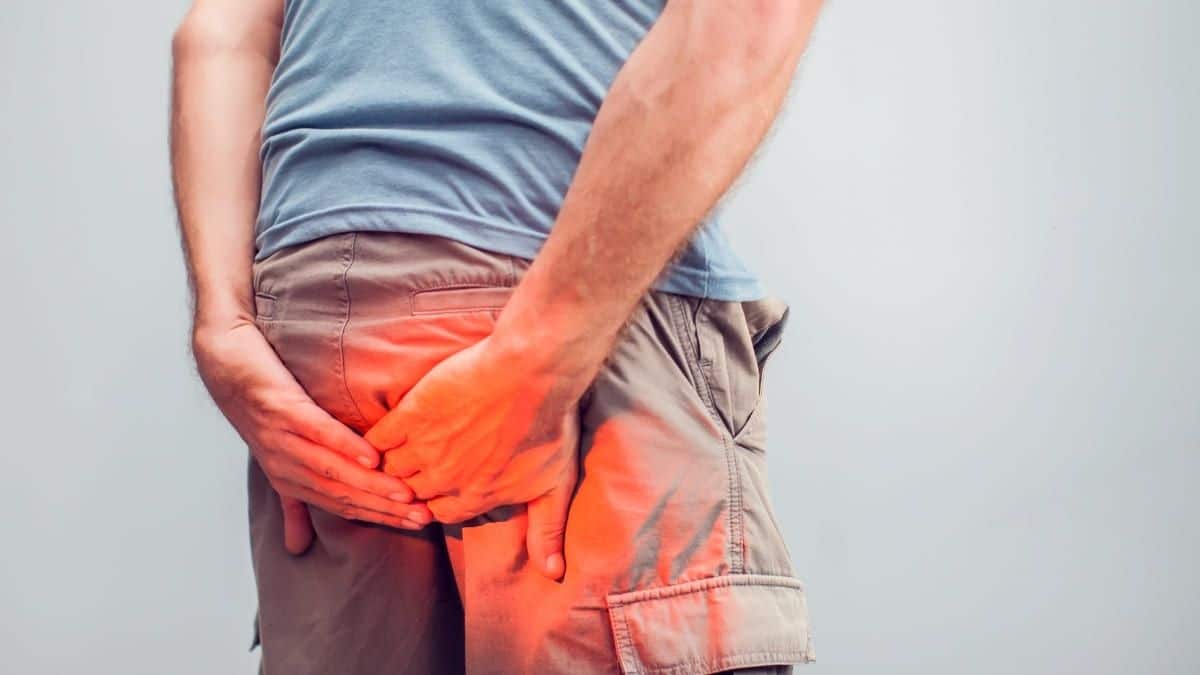 However, the symptoms will be according to how the hemorrhoids are found:
Internal hemorrhoids: They are usually asymptomatic, that is, they do not reflect any symptoms. Even so, bleeding can be perceived at the time of defecation, usually not painful. In this case, they cannot be seen or felt.
External hemorrhoids: They can be seen, there is irritation in the area, itching, they can thrombose, there is bleeding and you can feel a lot of pain.
Diagnosis
To diagnose that it is indeed a hemorrhoid problem, the doctor must be assisted and he will make an anal inspection, performing a rectal examination to perceive if there are any lumps.
A test called sigmoidoscopy is also performed to rule out possible polyps or a malignant neoplasm. The specialist doctor is known as a proctologist.
When treating a patient with hemorrhoids, the main thing is to eliminate the internal condition.
Hemorrhoid treatments
Hemorrhoids are treated in various ways according to the degree in which they are found, these can be the following:
Topical, when some ointment or cream is applied directly to the area.
Use of medications such as pills, which serve to reduce swelling in the veins.
Change of diet.
Surgical, this will depend on the degree to which the hemorrhoids are found. When constant bleeding occurs and the person presents symptoms of anemia, also when having a venous thrombosis.
The surgery can be done by laser or through conventional method using dissection. Although the surgery is not definitive, it is possible to suffer from hemorrhoids again if the appropriate care is not taken.
10 home remedies to cure hemorrhoids
Below, we provide you with 10 remedies that can be easily implemented from home, this in case the symptoms are mild or you want to prevent them.
Local use
1. Aloe vera
One of the easiest remedies available and simple to use to improve symptoms, reduce pain, inflammation and itching.
Aloe vera should be cut off and applied to the affected area several times a day, especially after bowel movements.
2. Chamomile – Horsetail – Rosemary
If you need to deflate the anal area and reduce bleeding discomfort, these medicinal plants are effective.
Boil a handful of these plants for about 5 minutes. Once the water is cold, submerge the area for 10 minutes.
3. Beetles
They should be washed very well previously and left to cool in the refrigerator to proceed to apply directly to the affected area. This can be done 3 times a day.
4. Potato
Its properties allow for a reduction in the sensation of burning and inflammation. The striped potato is taken and wrapped in cloth to be placed in the area of discomfort.
5. Essential oils (lavender, mint, cypress)
In this case we use lavender essential oil that helps to diminish inflammation; mint to diminish itching and cypress which is an intravenous tonic.
A drop of oil of each essence should be dissolved in a spoonful of vinegar, then it should be added to a glass of water, in case it is a bigger container the drops of oils are increased.
This serves to make a bath of seat, also a gauze can be used to spread it of the mixture and to apply in the area of the anus during 10 to 15 minutes.
6. Homemade rosemary cream
Place the rosemary in olive oil and lavender, this is left to macerate in a glass jar, it looks dark green. Once macerated it is applied.
The rosemary serves for the circulation and the lavender helps as a sedative and anti-inflammatory.
7. Plantain and yarrow
These two plants provide benefits to collect the skin and reduce bleeding. They can be added to the macerated oil or made into a separate oil, then filtered and beeswax added.
8. Shea butter and camphor
The oil, wax and camphor are placed in a bain-marie, dissolving it very well. Then it is packaged and it solidifies and is ready to be used in the area.
Internal use
9. Chia
The consumption of chia helps to improve constipation. It can be mixed with yogurt and cereals or fruits.
To prepare it, 2 spoonfuls of chia are used in a glass, water is placed until it is covered and it is left to rest for 2 to 3 hours. This will become a bit gelatinous, but it can be consumed this way or mixed as mentioned.
10. Prunes
It is a great remedy for those who have constipation, it can be mixed with chia.
How to prevent hemorrhoids?
The fundamental thing is that the patient takes care of the constipation, reason why it must evaluate his nutritional habits, incorporating the fiber consumption and sufficient water to the day.